A Regular Helping of GREENS
JANUARY 11, 2008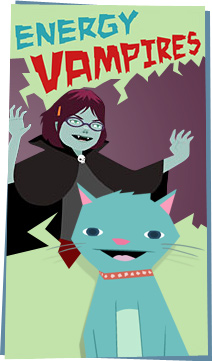 Posted by: Kitty
7:33am

Posted by: Izz
7:35am
Thank you, Kitty, for that fantastic introduction. For those of you who don't speak cat, Kitty wants you to check out our new photo viewer. Kitty comes face to face with an energy vampire!
For a breakdown of the worst energy vampires, check out this link:

Posted by: Dex
7:39am
And look at this: Angel from Michigan has shared her resolutions with us.
My new years resolutions are 1. turning off my light before i leave my bedroom 2. donate my money to the Make a Wish Foundation. Because as of right now... my school is working on helping me make money.
That's awesome!