A Regular Helping of GREENS
JANUARY 31, 2008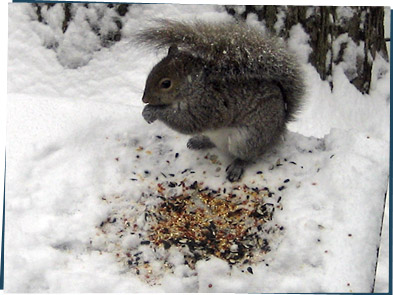 Posted by: Dex
8:46am
It's still cold here. I thought this global warming thing would make winters warmer.

Posted by: Izz
8:47am
We still have winter, Dex. And it's harder to be green with so much white! We use more energy and it's less easy to do green things like walk or bike to school.

Posted by: Dex
8:48am
So what can we do? I vote for hibernation.

Posted by: Izz
8:49am
You can, but many animals don't. So we can feed the birds and squirrels. But don't feed them where cats might get them. You could also check in on elderly neighbors, to make sure they are warm enough. And ...

Posted by: Dex
8:50am
I feel a list coming on. Out with it, cousin. I'll sit down.

Posted by: Izz
8:51am
Okay. Here are a few more ideas.
Don't heat the whole house if it's easier just to pull on a sweater.
Make sure your doors and windows are closed so you're not losing heat.
Try to stop cold air coming in under your doors.
Don't idle the car for longer than you need to warm it up.
Try to melt walkways with eco-friendly melters. Some of that salt you see is pretty poisonous to plants.
Carpool!
Donate warm clothes and old coats to local groups that need them.
If you compost kitchen waste, keep composting — even if it won't rot until the spring. Your garden (and landfill!) will love you.
Enjoy being outside! Bundle up and go play.