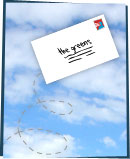 Posted by: Dex
8:46am
Some of you have written in with ideas for our episodes, and I'm kinda getting the feeling that animals are quite popular with our fans!
Wolfram from Maryland has an idea:
I think you should add a new episode that shows how ANIMALS are getting affected by our carbon footprints. If Izz is reading this then I think you understand why, right Izz?