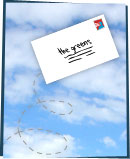 Posted by: Izz
7:32am
The mailbag if full — again! Check out these great letters from our readers.
Holly in Ohio writes:
Hi, this is Holly again. I sure hope you don't mind if I email you once more. It's just that your website is AWESOME! I would just like to thank you for talking about starting a new website that teaches kids to take more care of our planet. Um, well, uh, Dex, I like your skull t-shirt, and Izz, I like your glasses, and both of you, I praise you for making this phenomenal site. I love it.