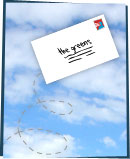 Posted by: Dex
8:01am
It's that time of year again — I'm breaking out the skull swimsuit! Looks like our readers are, too. Sort of.
Nina from Kentucky writes:
It's summer time, and hence, pool time. I love to swim, but I don't know if pools are all that green. Could you please tell me?