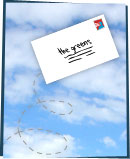 Posted by: Izz
3:43pm
Devany from Arizona asks:
how do u know so much about the environment. i just know a little.
And a friend from South Carolina says:
you rock. some tims you can be a littel anoying. even though you can be cool. i think the color green is awsome. i wish i could be green.
Plus, another reader from Ontario wants to know:
Hi greens I was going to ask you why are you green and how did you become green?