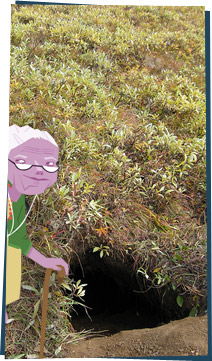 Posted by: Dex
7:22am
Last week we asked our readers to guess whose home this is. One fellow greenie said:
its a rabbit hole
And Rhea from India agreed, telling us:
The Answer to your blog is a Rabbits Burrow!
Alina was a little closer. She said:
I think that big animal lives in the whole.
Good guesses, but you need to add some EXTREMELY pointy teeth.
It's actually a BEAR DEN!