A Regular Helping of GREENS
JANUARY 8, 2009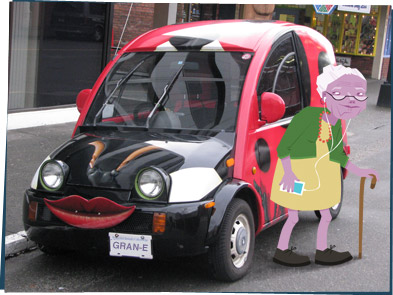 Posted by: Dex
7:09am
Check this out.

Posted by: Izz
7:11am
Another tiny car? I don't like where this is heading. Haven't we talked enough about tiny cars?

Posted by: Dex
7:12am
Not possible. But check this out. This one is in Victoria in British Columbia. That's in Canada — across the border that isn't the one that goes to Mexico.

Posted by: Izz
7:14am
I think I know where Canada is.

Posted by: Dex
7:17am
But did you know they now have streets with tiny parking spaces just for tiny cars. That way they get more people to use tiny cars. That's pretty cool. If everything we use is tinier we can leave tinier carbon footprints.

Posted by: Izz
7:19am
And I guess that car is pretty cute.