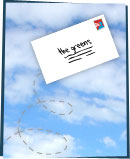 Posted by: Izz
3:14pm
Here's a letter from Morgan of Maryland who watched our Fashion Episode. She's a girl after my own heart!
I love fashion! Anything with fashion in it I can tell you about it. But I had never heard of green fashion. At first I thought it was wearing green, but then I watched your fashion episode and I'm devoted to the cause! GO GREEN FASHION! GO GREEN EVERYTHING!
Awesome! Why just today I'm wearing a skirt I got in at a Swisharoo — that's the GREENS' word for a clothes swap.