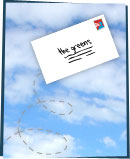 Posted by: Izz
3:24pm
Remember when we talked about local seasonal food? Alina from New Jersey totally gets it:
At my local farm there is a place where you can go strwaberry picking! I think that it's really cool and green because its fresh fruit that doesn't need to come from the other side of the world or anything like that. I also like it because it is very fun!
So go see if there are any fruit picking farms near you! If strawberries are done for this year, look for peaches and later on in the fall, apples!