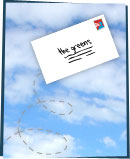 Posted by: Izz
8:15am
Here's a note from Micaela in New Jersey:
I went on a walk yesterday with my family. On the way i saw trash laying on the side if the road. Most of it could be recycled. i wish people would care more about our planet.
I know how you feel, Micaela! It is sad to see so much trash laying around because it makes our world dirty and can hurt animals too. And it's doubly sad to know that a lot of it could be recycled. That's why it's cool when there are public recycling bins around! But if there aren't any, if your parents say it's okay you could pick it up (using gloves is a good idea) and recycle it at home. It's frustrating but at least we're doing our part!