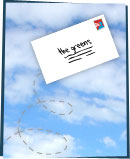 Posted by: Izz
4:26pm
Today we got a really tough question from Charlotte:
I know that tofu is green, but I heard that people cut down rainforests to make room for the soybean plants. Which is better? Can you guys pleeeeease post this so I can find out?
This is a very good question. So good, in fact, that I really didn't know! I decided to ask Mrs. Greener.