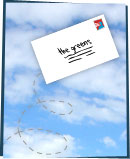 Posted by: Dex
8:46am
We got mail! Here's a whole bunch. What do YOU have to say about all this?
Anita says, "I just wanted to say that I am agreed to help to save the earth from this problem. I mean there's a lot of pollution here in America. I mean we are the #1 country with pollution. We should do some things to help our planet. Like clean the beaches, plant trees, try to save water, try to walk to some place or go on your bike, skateboard or skates to go somewhere. Let's just do something to save our planet."
Colleen adds a complex, tightly argued counterpoint, "You stink. Save the world? Not on your life."
Mark in Pennsylvania says, "I think this is the first time here on this website. I like the games videos and lots of other stuff on this website."
Kirah from Wisconsin says, "I just love your work. But I think that you maybe could add some games to your site. I think that it will bring a lot more people to your site." We think you're right, Kirah, we're working on it.
Carly in Georgia says, "Hey guys! Wassup? I think this should be an animated educational TV show on TV with a TON of episodes." Sweet. I'm ready for my close-up.
Hailey in California says, "Can you imagine life without pandas? Who knows how many animals will vanish until people start saying that they never existed !!!!!! That they were just a figment of our imaginations..."
Annika is 5 and asks, "Greens, did you know I lost two bottom teeth?"
Hannah lives in New York. Let's end today with her email. I love it. "Well, first of all, I really like your show. But I think you need to promote it. Maybe have schools show it to their kids. Because something so important as saving our earth can start as small as — well, I don't know if a 2-second-old baby could do it, but that's beside the point. Kids can do it. But kids have got to get it drilled into their heads, and trust me, with the kids at my school, your gonna need a couple thousand drills, their skulls are so thick."