A Regular Helping of GREENS
FEBRUARY 19, 2008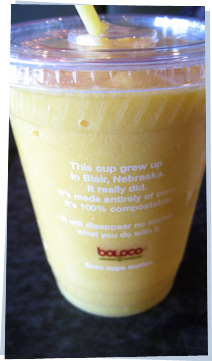 Posted by: Dex
8:46am
Check this out! This plastic cup isn't really a plastic cup.

Posted by: Izz
8:47am
Huh? Have you been eating crayons again? The doctor told you not to.

Posted by: Dex
8:48am
That was in kindergarten and no I haven't. Get this. It says, "This cup grew up in Blair, Nebraska. It really did. It's made entirely of corn. It's 100% compostable. It will disappear no matter what you do with it."

Posted by: Izz
8:49am
That's awesome. Hey Dex, I bet I could make your smoothie disappear too.