A Regular Helping of GREENS
MARCH 5, 2009

Posted by: Izz
8:22am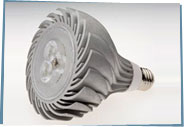 Do you know what this is?

Posted by: Dex
8:25am
Most likely an ultra-powerful weapon brought to Earth by aliens. There's something just like that in this video game I was playing yesterday.

Posted by: Izz
8:27am
Wrong. It's a new LED lightbulb! It uses even less energy than a CFL bulb and one bulb can last for years. The funny fins all around it help the heat get out faster when it gets hot.

Posted by: Dex
8:30am
That's kinda cool. So are you gonna get some for your room?

Posted by: Izz
8:32am
I wish, but one bulb costs $145! My allowance doesn't exactly cover that. In a few years the prices will come down but for now it's a little out of Dad's price range. The future is looking very bright though!