A Regular Helping of GREENS
APRIL 7, 2009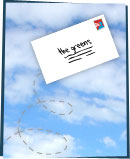 Posted by: Izz
3:22pm
When you and your family go shopping, what do you use to carry the stuff you buy?

Posted by: Dex
3:25pm
Personally, I have a giant robot to carry my stuff. He even carries me sometimes. But here's what Shifali from California did:
Today my mom and I got a reusable bag that we will every time we go shopping. Also did you know that every year one person uses about 144 plastic bags?!
And Kunal, also from California, wants to remind everyone how important it is to not use plastic bags:
The U.S.A. uses over 3 million plastic bags every year,and that is a lot of waste.The world should use paper bags (so they can recycle it), or bring their own reusable bags, so no waste will occur.

Posted by: Izz
3:29pm
They're right. Reusable bags, like canvas or nylon ones, are the best. And remember, they're not only for groceries! Use them when you buy clothes, books, or anything at all! Just Say No to plastic bags.
Also try our Bring Your Own Bag project! It's on page 7 of the GREENS Activity Guide.