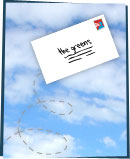 Posted by: Dex
7:22am
Summer is just about over. It's so sad! All summer long readers have been writing to us telling us about the green stuff they've been doing. Frangelica from Florida writes:
I am tring to make my mom buy green products this summer i am going to make a compost pile and planta cuple flower and veggies.
Zoe from New York has been working on her carbon footprint:
I am trying to reduce how much water i use and reduce my carbon footprint.
And Shelby from Ohio is into recycling:
I'm a recycleing girl i pick up recycleing under the bleachers and i LOVE your 7 big ideas.