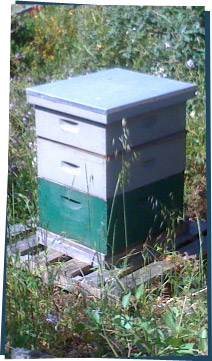 Posted by: Dex
8:12am
Last week we asked if anyone could guess what this box was for.
Ali said:
I think it's for storing garbage inside.
Jasey said:
I think it is a prize for helping the Earth. Like T-shirts or something. Maybe even bracelets, jump ropes, frizbee, or even a baseball game set.
We love your creative ideas but that's not quite it. Let's see what Matt thought:
I think it is a man-made bee-hive.
Looks like Alina thought so too:
I think that the mysterious box is a box where beekeepers put bees to use to make honey, etc. I know this because I watched it in Fetch Season 1.
And they are right, it's a bee box! Turns out lots of you knew it too! Congrats to Chloe, Samantha, George, Whitney, and Kendra who also wrote in with the right answer!