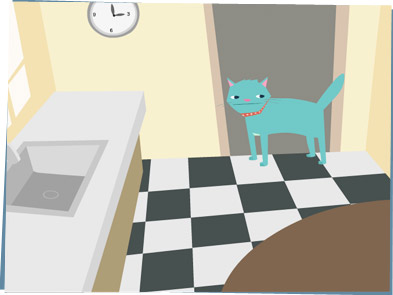 Hey everyone! Welcome to another thrilling edition of Food Rescue! We're here in Granny's kitchen on a mission to rescue her food. Did you know that on average people throw out a third of the food they buy? Granny included. So let's get started. Granny will give us food that's about to be wasted, Dex will tell you what not to do with it, and I'll show you how to conserve it.

First up, we have these lovely apples. I bought these in 1952. No wait, that was just a couple weeks ago. Wait, what? Anyhoo — they're a little soft and the skin is wrinkling up. I don't think I can eat them anymore.

Wait! Don't put them in the compost bin, or worse — the trash! I know it sounds eco-friendly, but it's still wasting the apples! Save the peels and cores for the worms and keep the good parts for your friend Dex.

Right, Dex. We can make this recipe for baked apples. Granny's apples have seen better days, but they'll still taste great once you bake them and put ice cream on top!

Next is my leftover pasta from lunch. It was m-m-good but after Kitty coughed up a hairball on my napkin I lost my appetite.

Stop! Don't toss it in the trash! Any amount of food is worth rescuing. A snack is a snack, no matter how small.

Good point. Keep it in an airtight container in the fridge and have it for lunch tomorrow. Then next time remember how much is the perfect portion so you can make just the right amount.

Last but not least, I have some organic gourmet stale bread. It's got the perfect texture and consistency. If you like your bread hard as a rock, that is.

While it is tempting to throw the stale bread at neighbors as they walk by, even I have to admit that would be a waste.

A total waste! Granny paid good money for that bread, why throw it away?! You can still revive stale bread and give it new life. You can make croutons or breadcrumbs, or this awesome soup!
Well folks, that's it for this exciting edition of Food Rescue. Tune in next time for more incredible ideas for how to conserve your food!

Save money, food, and resources by conserving your food.