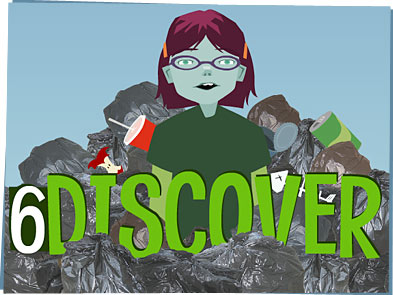 Do you know what I found under my bed this morning?

A three-week old grilled cheese sandwich?

No, although that might have been a tasty breakfast treat. They get better with age. I found those drawings we came up with for our eco-tree fort. Remember? The one built from sticks and old sheets.

Yeah! And Hoyt made us take it down because it was a "blight" on the neighborhood or something. Whatever that means.

Well, I was thinking, since it's summer and all, we should set it up again as, like, a base camp for our summer activities - flashlight tag, hiding from Granny, collecting fireflies and beetles and worms, napping before major neighborhood whiffle ball tournaments, burying Dad's burnt breakfast attempts and ... annoying Hoyt! I think it's time we set out to DISCOVER the Great Outdoors.

Let's do it!

I'm glad you're into it: you're on the first shift for skunk patrol!

There is always more to DISCOVER. Here are some suggestions: