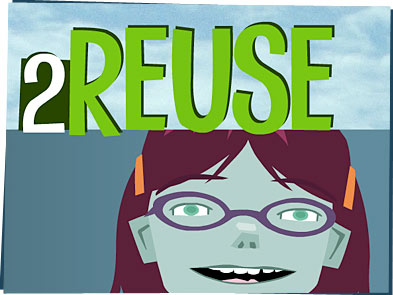 Have you seen my shoes?

I sure have! I'm growing tomatoes in them.

Well, that's good, because I really need... excuse me?

I said I'm growing tomatoes in them. I read that a cool way to reuse something was to plant things in it. We'll soon have some nice juicy tomatoes.

Izz, the idea of REUSING is that you find something else to do with an item AFTER you're done USING it - like giving books to a library, or donating clothes, or turning jam jars into storage containers.

Yeah, but just think. You're always saying we should eat locally grown food. You don't get much more local than tomatoes grown in your own shoes.

Here is a bunch of links to help you REUSE all kinds of things: