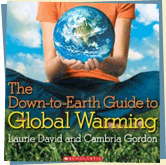 The Down-to-Earth Guide To Global Warming
by Laurie David and Cambria Gordon

This book clearly explains a lot of different environmental topics and gives ideas about what kids can do to help. With lots of pictures and a fun layout, it's easy to read this one straight through or piece by piece.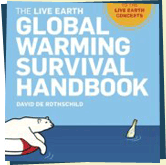 The Live Earth Global Warming Survival Handbook: 77 Essential Skills to Stop Climate Change
by David de Rothschild

Each page of this book has a different skill you'll need to deal with global warming. It explains how each tip affects the Earth and tells you how easy or hard it is to start doing it. And, even though it has a scary title, this book is SO funny!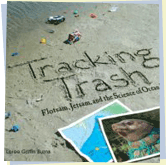 Tracking Trash: Flotsam, Jetsam, and the Science of Ocean Motion
by Loree Griffin Burns

What happens to trash that gets dumped in the ocean? And what happens to the oceans when all this trash is swimming about? It all starts with a guy finding random stuff on the beach!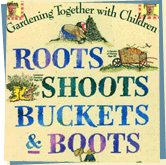 Roots, Shoots, Buckets & Boots: Gardening Together with Children
by Sharon Lovejoy

Want to go organic and grow your own food? This book will help you design, grow, and harvest your own garden. You'll find all types of gardens, including some you never knew existed!

50 Simple Things Kids Can Do to Save the Earth
by LLC Andrews McMeel Publishing and The Earthworks Group
An Inconvenient Truth: The Crisis of Global Warming
by Al Gore
Superkids: 250 Incredible Ways for Kids to Save the Planet
by Sasha Norris
Worms Eat My Garbage: How to Set Up & Maintain a Worm Composting System
by Mary Appelhof
The Lorax
by Dr. Suess
Hoot
by Carl Hiaasen
Pick Me Up
by Jeremy Leslie and David Roberts
Cool Stuff and How It Works
by Chris Woodford, Ben Morgan and Clint Witchalls
Earth
by James Luhr

Also see Great Books for Grownups