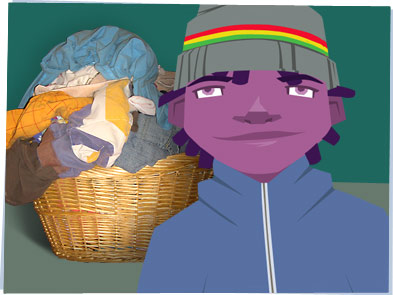 Meet Hector. He's a kid who doesn't say much, but usually knows what he's talking about.
Today he's looking at laundry. How you clean your clothes has a big impact on the world, not to mention your energy bills.
So Hector will now tell you how you can makelaundry-time green in just TEN WORDS!

Should I wash clothes in cold water whenever possible?

Yup.

Is line-drying better than tumble-drying?

Yeah.

Is it better if I use detergents that are earth-friendly because that water ends up in local rivers?

Definitely.

Are roll-on stain removers better than ones in spray bottles because they use less stuff?

Uh-huh.

Is it better to do one full load than two half loads?

Undoubtedly.

Should I only wash clothes when they're dirty?

Certainly.

Should I keep the lint trap and vents clear to make sure the drier is working well?

Affirmative.

Was that last one Yes?

Yes.

Count how many baskets of laundry your family does in a week, then think of ways to save energy. Wash less often? Use cold water?
Links
Are you making changes at home? Share them with us.