Spring is a great time to go through your clothes and get rid of what you don't use.

Here are three green things we'll be doing with our old clothes:
DONATE
First, we'll collect any clothes that can still be worn. We'll take some of them to the Salvation Army, and some to Goodwill. Places like that take donated clothes and sell them in their stores. They use the money they make to support their causes. Goodwill, for example, uses the money to help people train for jobs.
We'll give bigger stuff, like coats, to a charity that gives them away to people that need them. If you are interested in organizing your own coat drive, check out One Warm Coat, a site that offers a bunch of helpful tips.
RECYCLE
Did you know Nike will take your used shoes and put them to good use? Nike's Grind program takes old sneakers, slices them up into pieces and makes turf out of them!
UPCYCLE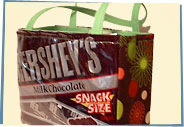 "Upcycling" means taking something that you're going to throw out and turning it into something useful instead. For example, Granny cut up and sewed Dex's old soccer shirts into a quilt. And check this out — I'm gonna make something kinda cool out of Dex's empty candy bags.
For other great ideas, check out Etsy, a crafts site that recently held an upcycling contest.

Reduce!
Reuse!
Donate!
Recycle!
Upcycle!
And tell us what you'll do this spring with clothes you no longer need.
Links